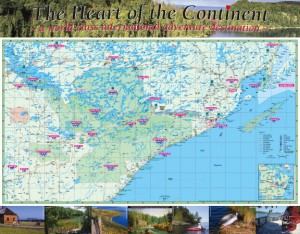 Heart of the Continent Map
Chrismar Mapping Services, in collaboration with Quetico Provincial Park, has produced a full-color map of the entire cross-border region, which includes a vast array of publicly managed natural areas (parks, forest, historic sites, nature reserves) on the Ontario/Minnesota border.
The need. Although these land areas are actually situated adjacent to and interconnected with one another, they are rarely depicted that way. Rather, each area has its own maps, and Ontario's natural areas are usually shown on different maps from those in Minnesota.
Details. The new Heart of the Continent Map strives to show the areas as they actually are, at a common scale and in relationship to one another. Beyond just depicting the geographic situation, the map also provides information helpful to understanding, appreciating and visiting the area. The reverse side of the map describes the areas and their interconnections with text and photos, with a focus on nonmotorized adventure opportunities. The map provides highlights of the area and contact information to plan trips to the region. (Double-sided, full color, printed on high-quality, waterproof paper.)