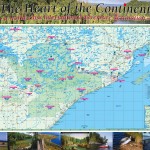 Order the

Heart of the Continent Map
[Produced by Chrismar Mapping Services in collaboration with Quetico Provincial Park.]
Quetico Provincial Park is generously contributing a portion of the funds generated from the sale of this map to support initiatives of the Heart of the Continent Partnership.
32×26 inches, 81×66 cm
two-sided, full-color
high quality, waterproof paper
Cost:
Orders of more than ten: $7.00 each (includes shipping) = wholesale rate
Orders of ten or fewer: $9.00 each (includes shipping) = retail rate
Make Checks to: Chrismar Mapping Service, Inc.
Send Orders (include check and shipping address) to:
Quetico Provincial Park
108 Saturn Avenue
Atikokan, Ontario, Canada,  P0T 1C0.
Phone orders: 807-597-5019
Expect Delivery in 3-4 weeks. (receipt will be included with shipment)
Questions about map orders?
Call Quetico Provincial Park, 807-597-5019 or e-mail [email protected].
Feedback sought. QPP requests your help to spot errors. This first edition of the map is an initial draft. It will have limited distribution during 2008. A revised version, incorporating photos, feedback and corrections from first edition users, will be released in 2009 for the Quetico/Superior Centennial.
Please send any feedback on map errors or improvements to:
Robin Reilly, Superintendent
Quetico Provincial Park