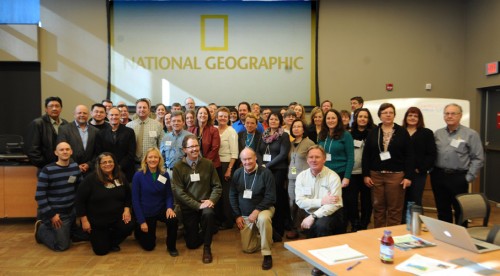 The Heart of the Continent Partnership (HOCP) is a Canadian/American coalition of land managers and local stakeholders working together on cross-border projects that promote the economic, cultural and natural health of the lakes, forests and communities on the Ontario/Minnesota border. Representing a broad array of organizations, the partnership seeks to develop a common identity and sense of belonging.
Notes from our last meeting on Voyageur Island – Atikokan/Quetico
Notes from the Roundtable Sept 11-13
An International Treasure!
Spanning the international border between northeastern Minnesota and northwestern Ontario lies an international treasure: the largest expanse of public greenspace in the heart of North America.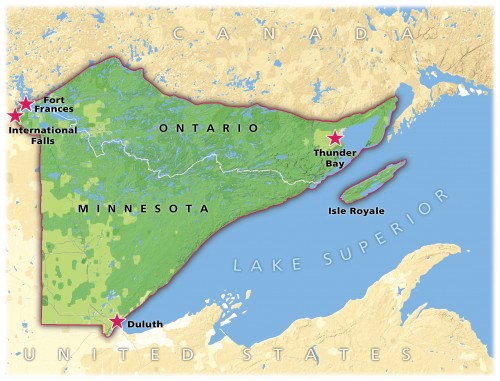 This 5.5 million acre (2.2 million hectares) landscape comprises a blend of working forest, rugged scenery, pristine watersheds, abundant wildlife and outstanding biodiversity. Several separately managed natural areas are encompassed by this ecosystem at the "heart of the continent," including Quetico Provincial Park, Superior National Forest (including the Boundary Waters Canoe Area Wilderness), Voyageurs National Park, Grand Portage National Monument and numerous Minnesota state forest lands and parks and Ontario provincial parks. (See map.)
Current Projects
The Heart of the Continent Partnership invites you to attend/participate in our second science symposium April 8-9 2019 in Duluth Minnesota. Heart of the Continent's Science Committee is continuing its mission to build and strengthen a coalition of scientists, land managers, and stakeholders dedicated to the preservation of natural and cultural resources across the Heart of the Continent landscape.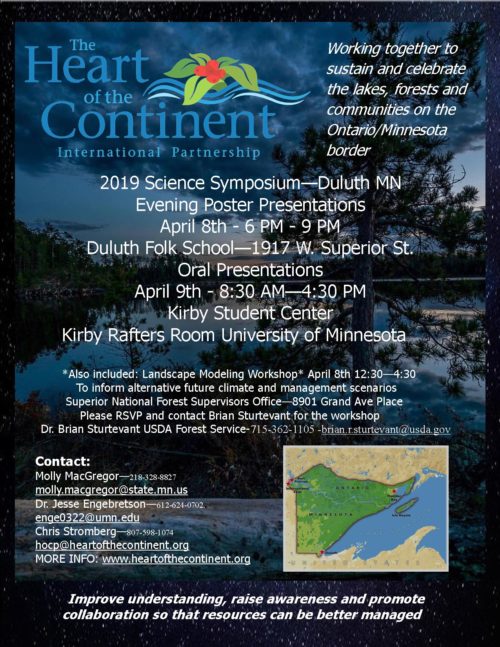 Science Partnership : Promoting collaboration among scientists, managers, and other stakeholders across political, cultural, and administrative boundaries – Join us April 8-9 2019 for our 2nd science symposium in Duluth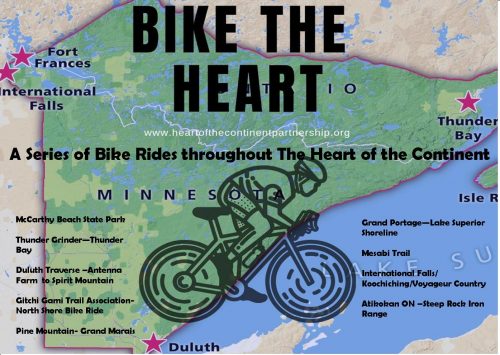 Bike the Heart: Heart of the Continent Partnership in conjunction with local shops clubs and biking enthusiasts are planning a series of rides late summer and early Fall to showcase the favourite trails and popular routes throughout the Heart of the Continent – See the page on TravelTheHeart Geotourism WebMapGuide that is being created to showcase each ride
Contact  Frank Jewel jewellf@stlouiscountymn.gov or Andy Hubley ahubley@ardc.org  or Courtney Lanthier development@neebing.org  for more information or if you or your club would like to become involved
Geotourism Initiative: HOCP is partnering with National Geographic Society to create a regional geotourism initiative, including a map and website. Our goal is to increase visitorship, build support for the region, and build community among those who care for it.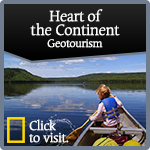 Innovation award to Atikokan's Geotourism Initiative involvement
Connecting Volunteers Initiative: We are establishing ways for connecting organizations needing volunteers with interested individuals, to benefit public lands and build awareness of the region.