[scroll down to download minutes)
Thursday venue: Clyde Iron Works, Duluth
2920 W. Michigan, Duluth, MN 55806 218-727-1150
Friday venue: Boulder Lake Environmental Learning Center
7328 Boulder Dam Road, Duluth, MN 55803; (218) 721-3731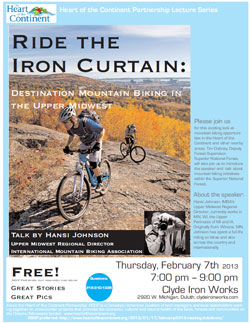 Agenda Summary: Our general meeting, at Clyde Iron Works, will begin Thursday afternoon (7 Feb) at 1 pm, will include sessions led by Riki McManus, of the Upper Minnesota Film Office, who will present on "How to Bring Hollywood to your Corner of the Heart of the Continent," and Gord Knowles, Atikokan Economic Development Corporation, who will share plans and seek partners for a spring 2013 FAM tour of the binational region (an outcome from the 2011 International Community Congress).
Our Thursday evening program will feature Hansi Johnson, the Midwest Regional Director of the International Mountain Biking Association will present a talk entitled Ride the Iron Curtain: Destination Mountain Biking in the Upper Midwest. He will be introduced by Tim Dabney, Deputy Forest Supervisor, Superior National Forest
On Friday (8 Feb), we'll move to Boulder Lake Environmental Learning Center where we'll get a forest tour from Director John Geissler and also spend time in committee work, including moving forward HOCP's emerging collaboration with National Geographic. Everyone is welcome and encouraged to participate.
Minutes: coming soon.