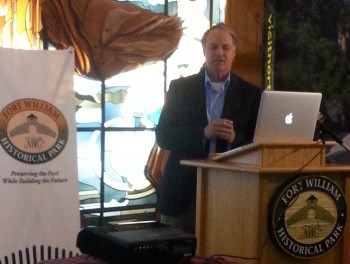 March 19, 2015 — With over 400 nominated businesses, attractions, and amenities mapped across the Heart of the Continent, National Geographic and the Heart of the Continent Design Team rolled out www.traveltheheart.org to the world last week. In Duluth, Grand Portage and Thunder Bay, the media, project collaborators, HOCP members and nominees were invited to join in the celebration of a project two years in the making. As Paul Pepe of Tourism Thunder Bay noted, the new website provides "another tool to help visitors from near and far see just what we have to offer in the Heart of the Continent." Each venue had its own unique atmosphere, but all had a feeling of energy and enthusiasm. Mary Somnis of Iron Range Resources and Rehabilitation Board (IRRRB), who spent countless hours bringing the project to fruition, was pleased, delighted and impressed with the heartfelt interest of each community. In Duluth, alongside Lake Superior in the Glensheen Mansion, people gathered around to hear Jim Dion from National Geographic Geotourism Mapguides Coordinator speak.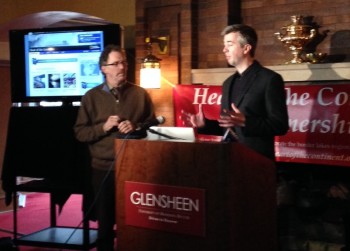 "Getting people to nominate with us, asking and answering a simple question about what's so special about your place in order to be able to populate a rich content map guide that people can use to explore the Heart of the Continent through the eyes and voices of the people that live there," said Dion. "We have an opportunity with the Heart of the Continent to say this is a really spectacular place, this should be your destination to see what North America can offer," added Duluth Mayor Don Ness. At the Visitor Center of Grand Portage National Monument, the ceremonies began and finished with a drum circle from the Grand Portage Band of Lake Superior Chippewa. Grand Portage Band Council member John Morrin said the tribe supports the project because of its focus on geotourism, which is "tourism that sustains or enhances the geographical character of a place — its environment, culture, aesthetics, heritage and well-being of its residents. This is why we, the Anishinaabe, are involved."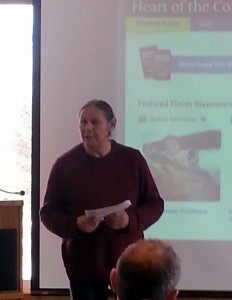 The launch in Thunder Bay was held at Fort William Historical Park, which general manager Sergio Buonocore expects will benefit from the Heart of the Continent Geotourism Mapguide. "It's going to draw more people here," he said. "I'm convinced we'll  see our numbers go up this year because of it.

"The Geotourism strategy for the Heart of the  Continent will strengthen the case for responsible,  meaningful tourism by embracing all tourism assets  uniquely distinctive to the locale. Effective  stewardship of these economic assets will produce benefits in a way that encourages the type  of investment needed to preserve our unique heritage. We're thrilled to see the partnership  that has developed with National Geographic and local organizations in this regard," said  Frank Jewell, Chair of Heart of the Continent Partnership and St. Louis County  Commissioner.