We hope you'll join us for our quarterly Heart of the Continent Partnership meeting in Atikokan, Ontario on August 14th and 15th!
REGISTER ONLINE USING THE FORM AT THE BOTTOM OF THE PAGE
Venues: Atikokan Economic Development Corporation (Thursday afternoon) and Quetico College (Thursday evening and Friday)
Agenda
Costs
What to Bring
Lodging
Registration Form
Download a printable .pdf copy of this agenda
ALL TIMES CENTRAL (CDT)
Day 1: Thursday, August 14, 2014
Location: Atikokan Economic Development Corporation, 214 Main Street West. Follow Highway 11 down Mackenzie Avenue to Marks Street, turn north and drive one block. AEDC is located after stop sign at corner of Marks and Main Street.
(Optional pre-event activities)
10-11:30am – International Water Quality Plan Roundtable
The International Joint Commission is also meeting at the AEDC office  this morning, and invites people to come early and participate in an interactive roundtable to discuss the results of their draft plan for the International Lake of the Woods Basin Water Quality Plan, available for review & download at http://www.ijc.org/en_/LWBWQPOS
11:30-1:00pm – Optional Luncheon
Join us for lunch at Little Darlings, newly moved to the Voyageur Mall!
Artisans' Tent running 10am-6pm on Main Street, next to CIBC Bank. (Everyone pay their own.)
1:00-1:30pm – Welcome and Introductions (Meeting begins)
Welcome from HOCP Chair Frank Jewell and from Mayor Dennis Brown, Atikokan.
1:30-1:45pm – HOCP overview
Background, goals, and general introduction to HOCP, what we're up to, why we meet, meeting expectations, etc.
1:45-2:15pm – Speaker – Jim Johnson (Atikokan Bass Classic)
The Atikokan Bass Classic is one of the region's premier bass fishing tournaments, which has worked hard on foundation of volunteerism and community spirit, driven by the efforts of Mr. Johnson and a dedicated group of community volunteers. Dubbed the "funnest bass tournament in the northwest," it's been featured on international television shows, covered in mass media and received prestigious awards. http://www.atikokanbassclassic.com
2:15-3:15 – Tour – Souris River Canoes (106 Reid Street, off Mackenzie Avenue)
For 25 years, locally owned and operated Souris River Canoes has been perfecting the creation of wilderness tripping canoes made with Kevlar fibre and epoxy resin, designed with wilderness tripping in mind. Owners Keith and Arlene Robinson have grown their business to serve customers internationally, and are looking forward to giving us a tour of their manufacturing operation. http://www.sourisriver.com/
3:15-3:45 – Coffee Break @ Little Falls – Tour of Little Falls Hatchery
Run by volunteers from the Atikokan Sportsmen's Conservation Club, the local fish hatchery is dedicated to improving stocks of the most popular sports fish in the area. Located beside Little Falls, it is capable of hatching up to three million walleye each spring. An tour by volunteer staff should prove informative (and please sign the guestbook!). Refreshments will be provided on site.
3:45-4:30 – Conversation with Trevor Gibb (Superintendent, Quetico Park, Ministry of Natural Resources)
As someone new to the area, and new to the role, Trevor will provide an 'outsider's view' to what we often take for granted in the Heart of the Continent. and lead us in a conversation to share ideas about what outsiders are seeing, and how we can learn from that as we work to sustain and celebrate the region.
4:30-6:30 – A Taste of Atikokan – Bass Classic Festivities
4:30pm – Join the community under the tent in a Bass Classic Fish Fry, or, if regional Walleye isn't to your tastes, check out one of Atikokan's great downtown eateries. Cash payment only at the Fish Fry (try to give them Canadian money so as to reduce confusion) – 3 banks are available downtown to convert currency at your leisure. Cost: Adults $12.00, everyone pay their own.
6:00pm – Bass Classic Boat Parade, Mackenzie Avenue. All of the 110 competitors will parade their boats through the community in the largest local parade of the year. Feel free to roam the community at your leisure, or check in early to the Quetico College School.
Dinner. (two options)
You can find food in town, or dinner is also available at the Quetico College School should you choose to check in early and eat there instead from 6:45-8pm, featuring soup, salads, hot items with vegetables, pasta bar, and a wide selection of desserts and beverages. Cost: $20 per person.
7:00-7:30pm – Drive to Quetico College School (Highway 11)
Drive down Highway 11B 3 kilometers (1.8 miles), then make a left at the stop sign to Highway 11. Drive 30 km (18 m) east (towards Thunder Bay), make a left at Highway 633 (Kawene) and drive 3 km (1.8 m) until making a right at School entry. Follow the road to the main parking lot.
7:30pm onwards – Check-in & orientation at Quetico College School
Hosted by QCS Owner/Operator Michael Heaton. Michael will share a brief history of how a retired Toronto headmaster came to purchase a remote educational centre in northwest Ontario, and the challenges he's faced in his journey. http://www.queticocollegeschool.ca/
The rest of the evening will be free time; the School has full amenities including a pool, sauna, games and a lounge with a self-serve bar, as well as three fire pits, walking trails and swimming points. If you have a kayak or canoe, feel free to bring it as there is a small beach perfect for launching straight into Eva Lake.
FRIDAY, AUGUST 15 – LOCATION: QUETICO COLLEGE SCHOOL
From Atikokan, drive down Highway 11B 3 kilometers (1.8 miles), then make a left at the stop sign to Highway 11. Drive 30 km (18 m) east (towards Thunder Bay), make a left at Highway 633 (Kawene) and drive 3 km (1.8 m) until making a right at School entry. Follow the road to the main parking lot.
7:00-8:00 am – Continental Breakfast
Come and go breakfast provided in the Dining Hall (wi-fi is active in this room 24/7) Cost: $10. Features egg station along with bacon, sausage, toast and spreads, coffee, juice.
8:00-9:00am – Project Updates
Each of HOCP's two current projects, the Geotourism Initiative, and the Volunteer Initiative, will present 20 minute updates, and invitations to join their breakout session. The steering committee will also present other HOCP business.
9:00-10:00am – Project Breakout Sessions
Please plan to join one of these breakouts, or propose an additional one, and help move HOCP's current efforts forward:
a)     Volunteer Initiative
b)    Geotourism Initiative
c)     HOCP funding and sustainability
10:00-10:30am – Networking Break
Coffee, muffins and fresh fruit provided.
10:30-11:30 am – HOCP: Where are we headed?
Steering committee member Doug Franchot will lead us in a conversation and brainstorm about the future of HOCP, goals, where we might be going or want to go. Please plan to bring and share your ideas, impressions, and vision.
11:30-1:00pm – Outdoor BBQ Lunch (weather permitting)
Cost: $15. Meal to consist of at least 2 salads, hamburgers, hotdogs and chicken with all the fixings, vegetarian alternatives, creative desserts and beverages.
1:00-1:30pm – Pack up, Checkouts & Goodbyes
1:30pm – Meeting Adjourns (with optional post meeting activities, as follows)
——————————————————-
1:30pm onwards – Post-Meeting Options: Explore the Riches of Quetico.
Location: Heritage Pavilion: at Dawson Campgrounds, 42 km east of Atikokan. Please plan to extend your stay, and join you HOCP colleagues to experience one of the crown jewels of the heart, Quetico Park, and consider as you do how it connects to the story and draw of your own corner of the heart. Canoe, Film and Astronomy presentation.
1:30 pm Voyageur Canoe Paddle. A visit to Quetico Park's Heritage Pavilion – join Park Staff on a Voyageur Canoe Paddle in Quetico Provincial Park….stay for an early evening of films at Quetico's round house teaching place beginning at 7:00pm. If you have a favourite PFD, some rain gear and paddle bring it along, or we can provide. Dinner and accommodations at the College School available on request.
5pm  Dinner at Quetico College featuring soup, salads, hot items with vegetables, pasta bar, and a wide selection of desserts and beverages. Cost: $20 per person. (please rsvp upon registration)
7pm Film: A Park for All Seasons. at Quetico's round house teaching place. Learn about the rich history and assets of the park in this feature produced by the Oasis HD Nature Station
8:00 p.m. Astronomy Presentation: Dark skies are a central part of the beauty of the Heart of the Continent. We are fortunate that The Royal Astronomical Society of Canada (Thunder Bay Chapter) will also be presenting at Quetico's Heritage pavilion Friday evening. The Society has been visiting and exploring the heavens at Quetico for nearly 30 years. The members are extremely knowledgeable and enthusiastic. After the presentation, they will leave their telescopes (both new Computerized and "old school" versions) out for folks to use into the evening.
3pm. Bass Classic Weigh In.  For those who opt to stay in town after the meeting, join us under the Community Tent in Atikokan beginning Friday at 3pm to watch the bass fishers bring in their hauls and compete for the grand prize. Beer gardens are on site!
———————————————————-
What to bring:
Passports (if required). And if you want: Lawn Chairs, Life vest & a paddle, rain gear.
Costs:
There is no charge to attend any of the sessions. As for meals, Thursday lunch is on your own.  Thursday dinner is either on your own (in Atikokan) or you can eat at Quetico School ($20 buffet). Friday breakfast ($10) and Friday lunch ($15) and Friday supper, if you stay  ($20) at Quetico School.  Overnight lodging costs ($50/night) are payable directly at Quetico College School.  Please pay when you get there. The school accepts Visa, Mastercard and American Express, in addition to cash. Receipts will be provided on site. If you require alternative arrangements, please speak to Gord from the AEDC and we will attempt to arrange something.
Lodging: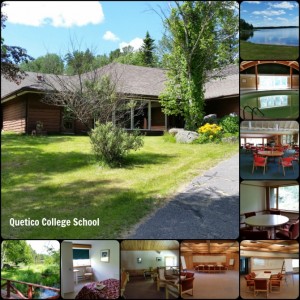 We'll lodge Thursday evening at Quetico College School. They will also have rooms available for those that plan to stay Friday night or arrive early on Wednesday evening, by request. http://www.queticocollegeschool.ca/  (Please indicate on registration form under. Booking can be done by indicating your preference on the online invitation, to ensure you have a room, please book ASAP. Cost for accommodations is $50 per night (including taxes), which includes a double bed and private washroom, and is payable directly to Quetico College School. A few two-bed rooms are available on a first-come, first-serve basis for $100 per night. For those who would like to camp, you may book a site at Quetico Park, Dawson Trail Campgrounds by calling 1-888-668-7275