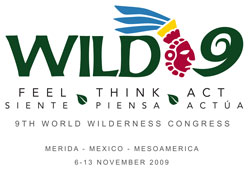 Heart of the Continent Partnership (HOCP) was congratulated for its "ongoing effort to promote trans-boundary cooperation and research … within the publicly managed lands along this Canadian/American border area" at the 9th World Wilderness Congress (WWC) held in Merida, Mexico last November, 2009.
The WWC passed a resolution of support that commends Heart of the Continent Partnership as "a good example of cross-border collaboration in a region that encompasses not only large tracts of designated wilderness but also large areas of multiple use public land, and towns that rely on these for their economic vitality".
The World Wilderness Congress gathering in Mexico was marked by an historic trilateral agreement (PDF) between the United States, Canada and Mexico to formally cooperate on wilderness conservation measures across the continent.
Robin Reilly, superintendent of Quetico Provincial Park, was at the Congress and noted "the leaders were proposing that trans-boundary areas start working more closely together. They were excited to learn that through the Heart of the Continent Partnership our agencies and individuals had already developed a successful collaboration and a model for others."
Heart of the Continent Partnership is a Canadian/American coalition of land managers, community leaders and local stakeholders working together on cross-border projects that promote the natural, economic, and cultural health of the lakes, forests and communities along the Ontario/Minnesota border.  HOCP's cross-border collaborative efforts strive to bring together as many voices as possible to share ideas and learn about different perspectives affecting the border lakes region. With 5.5 million acres of public lands, the Heart of the Continent region is the largest expanse of public greenspace in the heart of North America.
The resolution passed in Mexico commends HOCP's work as "a network of over twenty government and non-government groups have been working in this trans-boundary area, at the centre of North America, to promote communication, research and cooperation under the name of Heart of the Continent Partnership".
Doug Franchot, chair of the Heart of the Continent Partnership steering committee, saw the resolution as a validation of HOCP's approach. "The recognition signals the importance of what Heart of the Continent Partnership  is trying to do—create a way for a broad spectrum  of organizations to come together to share ideas, share common visions, and find new ways to cooperate across borders, across boundaries, and across attitudes. "
Climate change and its effect on public lands was a major theme at the WWC gathering. The resolution specifically encourages Heart of the Continent Partnership to report back to the next World Wilderness Congress gathering on trans-boundary research and monitoring of climate change. Jim Sanders, Supervisor of the Superior National Forest stated, "The issues revolving around climate change are bigger than any one country or area.  There are many complex factors to consider. Venues such as Heart of the Continent Partnership, which focus on cross border collaboration, can help us deal with issues such as climate change with each partner bringing their expertise to the table. Together we can develop strategies and a better understanding of complex issues."
Launched in 2007, HOCP meets quarterly at locations throughout the region. It has thus far attracted participants representing nonprofit organizations, government agencies, city officials and tourism boards.  HOCP sponsored the Canoe the Heart of the Continent – Centennial Canoe Voyage expedition last summer which brought together a wide range of paddlers—land managers, elected officials, nonprofit workers, forest service staff, local residents—in a single canoe that went from Atikokan, Ontario to International Falls, Minnesota to Grand Marais, Minnesota to Thunder Bay, Ontario. The centennial expedition was a way to celebrate the unique character of this cross border region—its lakes, forests and towns, as well as the 100th year birthdays of Quetico Provincial Park and the Superior National Forest.
Related:

HOCP's next general meeting is February 4 & 5, 2010 in Thunder Bay. All interested parties are welcome to attend. Those interested should contact coordinator Bret Hesla at Heart of the Continent Partnership, 126 N. Third St, Suite 400, Minneapolis, MN 55401 – Telephone: 612-333-1858.