Tim Eaton, proprietor of Canoeing.com, sent along this trip report and photos from his experience paddling with the Canoe the Heart voyage on Leg C, from Crane Lake to Fall Lake along the Border Route:
Route: Crane Lake at the southern end of Voyageurs National Par to Fall Lake in Ely. The four day trip covered a distance of ninety-eight miles, and include nine portages totaling 737 rods (3,713 meters) and required lining the canoe up three sets of rapids. Our route included two bonus portages and two beaver damn pullovers detouring the Beatty mechanical portage between Loon and Lac La Croix.
Maps: We used McKensie series maps; scale 1:31,680 for this leg of the 'Heart'. Six maps were required: No 14- Loon, Wilkins Bay, No 31, Lac La Croix, Wolseley, No. 13, Lac La Croix, No 29, Argo, Minn. And Williams Lakes, No. 10, Basswood, and No. 17, Fall Lake.
Day one- July 6th leg: King William Narrows on Crane Lake to Lac La Croix on the International border. Distance; 28 paddling miles, including three portages and two beaver damns to drag over. Departure 6:30 am, arrival 5:00 pm; total time 10.5 hours.
Route: start point was a campsite on a point of land just north of Indian Island at the south end of King Williams Narrows on Crane Lake. Paddled north three miles, turn east and then south into Little Vermillion Lake. This route passes Hangman's Island and Little Vermillion Narrows. This route has us paddling against the flow of the water. Little Vermillion narrows into the Loon River, turns east, then zigzagging south, and east through another narrows ending at Loon Falls. There is a mechanical portage around Loon Falls into Loon Lake and another at the north arm of Loon into Lac La Croix. Today's destination is Snow Bay on Lac La Croix.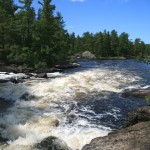 The power boat traffic is relentless this morning and as each boat passes, the still water surface is broken into a set of canoe surfing waves. The still quiet , quite morning is intruded by the sound of motors echoing from one side of this densely tree-lined waterway to the other. The odiferous smell of gasoline permeates the nostrils. Motors are allowed on the Canadian side of the border and the fishing is said to be fantastic in Lac La Croix.
Fifteen miles from our start is Loon Falls and the first of two mechanical portage available in route to Lac La Croix. The Loon Falls mechanical portage operating since 1918 is unique and interesting from a historical perspective but on the day we pass we encounter a fowl mouthed, impatient, unfriendly, operator who acts out the crusty persona of a backwoods character as if to entertain us. He demands the fifteen dollars portage fee before he will release the canoe from his railroad carriage and reprimands us again for being too slow in tying down our canoe. I mentally flip him off as we load the voyageur canoe.
We head east from the falls on Loon Lake tracking the international border with the hull of our canoe. The left side paddlers are stoking in Canadian water while the right side paddlers in the USA. We laugh at how silly all this seems but occasionally look for the shiny new border markers (post 911) embedded in glacial rock that accurately defines the international boundaries of each country.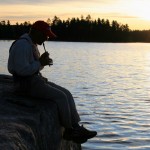 Unintentionally, we paddle past the north arm of Loon Lake where the second mechanical portage (Beatty Portage) leads into Lac La Croix. We have blissfully found our way into East Loon Bay paddling north into Little Loon Lake where the water ends –we discover our navigational error. Consulting our maps, we see a passage way north into Snow Bay on Lac La Croix lies to the east A 147 rod (740 meter) portage takes us from Little Loon into Slim lake. The portage trail is rugged– up and down, narrow, poorly maintain, and infrequently traveled. This is the first time Leg C paddlers have hoisted the 300 pound voyageur canoe over their heads. There are four stations under the canoe from which to carry. The canoe is 27' feet in length and because of the up and down motion the canoe is seldom carried by all four. The pain is intense when the weight shifts from one person to the next. We grin-n-bear the navigation error made earlier but are rewarded to find a nesting loon as we reach the waters edge at Slim Lake
Our diversionary, 'bonus route', takes us north on Slim Lake. This narrow, deep lake is lined on both sides with old growth red and white pines, but the best lies just ahead in a bog. We drag the canoe over a beaver dam from Slim into a narrow stream leading to Section Pond, the next lake on the map. As the stream widens into Section Pond, and to our right, an incredible bog unfolds. There, towering 18' over the bog are hundreds of Northern Pitcher plants pointing in every-which-direction searching for a hearty meal of insects and… it's a haunting site, one that conjures up tales of being eaten alive by these mysterious bog plants. We quietly paddle by with hardly a word whispered.
From Section Pond there is a 73 rod (368 meter) portage into South Lake which leads to North Lake and another drag over the beaver damn blocking the flow of water from Snow Bay- we've reach Lac La Croix our first days destination. Our campsite is on Snow Bay at point of land opposite Percy's Point.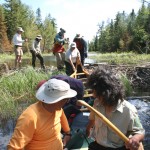 July 7th- day two. Snow Bay on Lac La Croix to Thursday Bay on Crooked Lake. Total distance; 32 paddling miles, with two portages totaling 219 rods (1,103 meters). Departure time 6:20 am, arrival 6:30 pm with a two hour lunch stop at Rebecca Falls.
Route: north from Snow Bay following the lake as it turns in an eastward direction. Island hoping between islands Forty-five and Forty-one pass the First Nations Lac La Croix community, then dropping south west of island Twenty-five through the narrows west of Colman Island turning east again to Fish Stake Narrows. From the narrows we turn south staying west of Irving Island (pictographs) and Warrior Hill then southeast to the portage around Bottle Rapids into Bottle Lake Bottle, Iron Lake and on to Rebecca Falls. Two miles further east is the portage around Curtin Falls into Crooked Lake. Our final destination this day ia a campsite seven miles from the Falls between Friday and Thursday Bays.
Highlights today included the Lac La Croix pictographs on Irving Island, Warrior Hill and story of the bloody ambush that took place, Curtain Falls and Rebecca Falls the later of which splits the mainland into an island of land with a torrid downhill waterway on either side to the Namakna River below. The south shoot with it's jagged rock outcroppings and narrow passage appears too risky for a canoe while the north side maybe passable but only by the most adventurous, skilled white water paddlers properly outfitted with Royalex canoes, spray skirts, head gear and a rescue crew on hand.
July 8th Day three. Crooked Lake to Pipestone Bay on Basswood Lake. Distance; 23 paddling miles including four short portages 12, 60, 32and 80 rods totally 927 meters and lining the canoe up three rapids to avoiding the a mile long portage into Basswood Lake.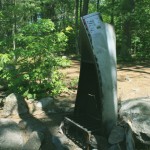 Our route meanders east from Thursday Bay turns sharply to the north, then east and then south into Wednesday Bay clinging to the eastern shore around a tip of land where the bay opens up . We turn east passing by the 'table rock' then turn south. We zig, than zag, near the opening to Moose Bay – our course is as crooked as a drunken sailor walks. The lake narrows now and the passage close with sheer rock walls on both sides of the canoe. We pass the Crooked Lake pictographs an amazing gallery of Anishinaabe 'rock art'- bright red paintings of people, animals, canoes, creatures and items precious to the aboriginal healers – pipes, medicine bags, rattles and many hand prints of the tribal leaders and schmans. We zig and zag further south to first of four portages into Basswood Lake. At the second portage, Wheelbarrow, we choose the Canadian route a bit shorter. One more portage and now were lining the canoe up three sets of rapids with the last portage a short walk around Basswoods Falls. Entering Basswood Lake we head south south past the water level Gauging station marked on our maps. We now leave the paddle only section of Basswood and zig zag our way into Pipestone Bay hoping to find open a campsite at the location of an old resort removed after the Wilderness Act of 1964 was passed into law. The campsite is taken, we paddle on to the next. It's 6:00pm and we call it a day. We're staged just nine miles out from our final destination- tomorrow should be an easy day.
Highlights included Robin Reilly's cliff jump, the Crooked Lake pictographs, lining the canoe up the Basswoods rapids, the newly improved fire grate at Basswood Falls and the Oberholtzer-Backus area water gauging trolley at the headwater to Basswood Falls.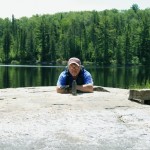 July 9th; day four. Pipestone Bay on Basswood Lake to the public campgrounds on Fall Lake. Distance 15 miles including our victory lap around Fall Lake with two portages, the first around Pipestone Falls and the second around Newton Falls. These portage trails are wide and flat and used daily by fisherman with boats and portage wheels headed to Basswood Lake. The big, 27' voyageur canoe weighting nearly 300 pounds is easily carried over these trails- first into Newton Lake and again into Fall Lake. The campground is almost in site of our final portage but we take a six-mile detour to paddle around the perimeter of Fall Lake making stops at Nancy and Dan Hernesmaa's for lunch and at the University of Minnesota's Research Station donated by the Hubacheck family. This old lodge in all its splendor was once located at Curtain Falls on Basswood Lake.
We arrive at the Fall Lake campgrounds at 3:00 pm to a thrown of US Forest Service dignitaries, our replacement crew for Leg D of the Heart and the general public. A few speeches are made at the public beach, a hot meal is served to all, and presentations by Jim Sanuders of the US Forest Service and Robin Reilly, Park Superintend of Quetico Provincial Park. We disappear into the evening and head home with many good memories of the 98 mile border route from Voyageurs National Park south to Fall Lake in Ely Minnesota and the crew of Leg C.
Highlight of the day– Andy Wright, camera in hand, standing in water up to his neck, documenting our arrival at Fall Lake. Andy writes the UpNorthica blog.
Photo Gallery: